Artists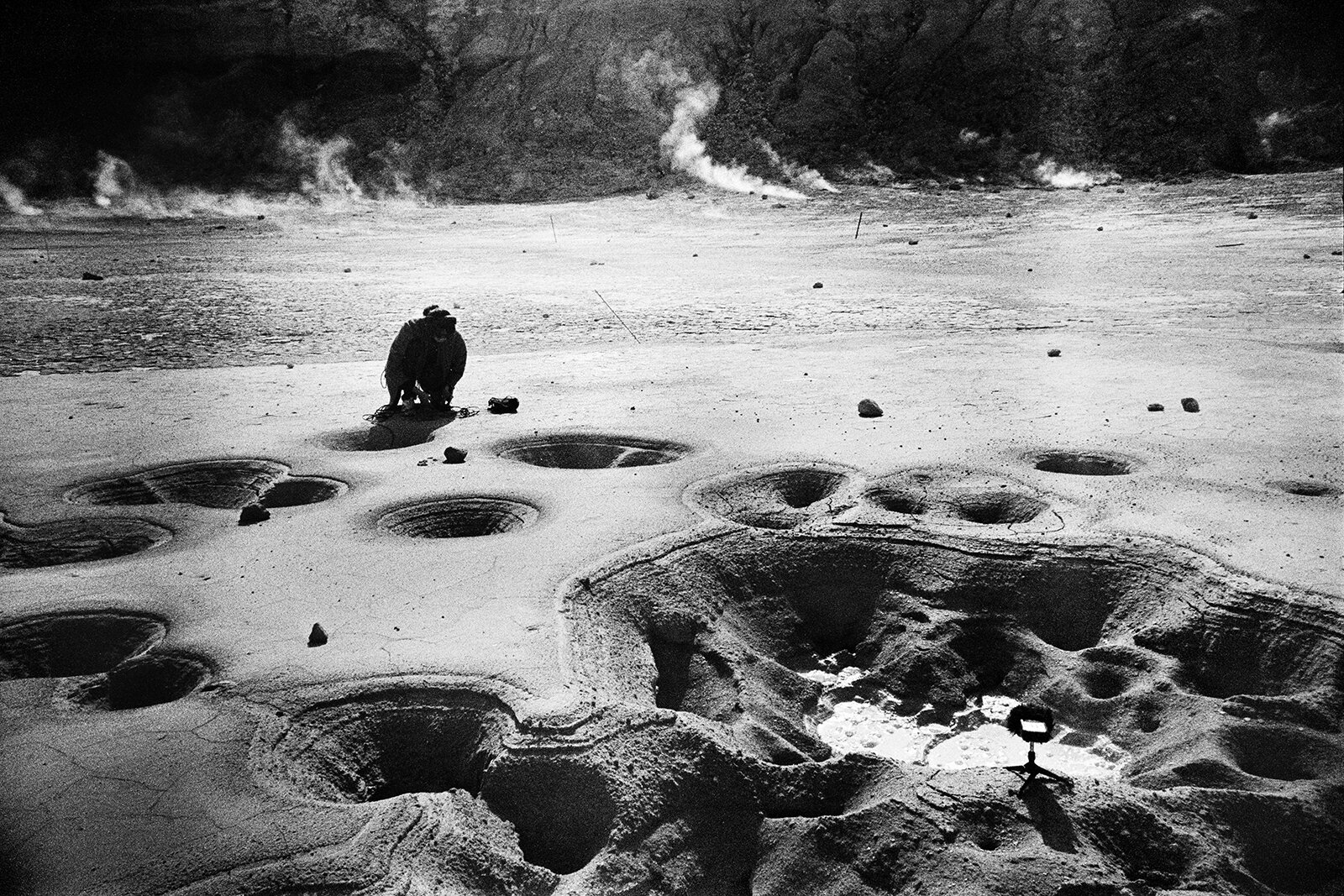 Alyssa Moxley collecting sounds (photo: Stéphane Charpentier)
Aeolus Online is a project by interdisciplinary artist Mike Blow with contributions from artists around the world. Here you can read more about the recordings and artists featured in the project. If you have a recording of the wind that you would like to add to the cabinet, please send it to us for consideration by clicking here.
Alison Ballard | Heather Barrett | Mike Blow | Attila Faravelli | Jeff Fuccillo | Teddy Glendinning | Leonard Medica Gregorič | Jack Hyde | Ak Kan | Laura Maes | Scott McCulloch | Carmen Torrano Mellado | Janne Mikkola | Sanela Milosevic and Kornel Papista | Alyssa Moxley | Rick Nance | Makoto Nomura | Kate Paxman | Pedro and Juan | Kristoffer Raasted | Lasse-Marc Riek | Mark Roberts | Nick Walters | Simon Whetham | Hubert Wińczyk | Maciej Wirmański
---
Alison Ballard
As the remnants of Storm Ellen (a 'decayed tropical cyclone') blew across the UK, the Met Office issued a series of yellow weather warnings for 'unseasonably strong winds', with speeds up to 60mph. Here, you can hear the sound of a strong breeze shaking the trees in a residential London street, against a faint, distant backdrop of urban life.
Alison Ballard explores changing notions of what it means to be 'present', to experience something in real-time, and the impact technology is having on our sense of self using moving image, installation, audio, and performance. Her works often employ a narrative voiceover, placing image and sound together/against each other in ways that challenge their pre-existing relationship. Through absence and presence, she plays with the boundaries between the real and the unreal to question our relationships with people, places, and ourselves.
www.alisonballard.com
---
Heather Barrett
The sound was collected on the morning of December 1, 2020 at Cape Spear, Newfoundland and Labrador. It was a relatively calm day at the Cape, with a NNW wind ranging from 30 to 50 km/hr. Cape Spear, at 47,31'25" N, and 52, 37'10" W, is the most easterly point of land in North America. If the wind was to continue on that trajectory, the next land it would hit would be the west coast of Africa. Cape Spear is a short drive from my hometown of St. John's. It is a wild and windy place, where nature puts us humans in our place.
In her day job, Heather Barrett is a veteran journalist with the Canadian Broadcasting Corporation in St. John's, Newfoundland and Labrador, Canada. She also works in sound and textile installation art.
---
Mike Blow
Please listen in headphones if you can. This is a binaural recording made in a corner of my garden in Japan where a small wind vortex often forms. You can hear leaves being blown around the recorder by the cold yamakaze (mountain wind) that blows down the Kofu valley from the Yatsugatake mountain range, with the sound of the wind in the trees in the background. Winter in Yamanashi is very dry - the fallen leaves become extremely brittle and hard, and you can hear this as they scrape around the recorder.
Mike Blow is an artist working in sound, music and electronics and the originator of the the Aeolus Online project. His interactive sound installations have been exhibited at festivals and galleries all over the UK. His most recent work is a score for a photo-montage film by the Macedonian photographer Ivan Blazhev, which has been shown in Skopje, Belgrade and Paris.
www.evolutionaryart.co.uk
---
Attila Faravelli
Recorded in Opoul, Pyrénées Orientales - France, Sennheiser MKH8020 (AB)- Sound devices 552
The Tramontane wind is howling outside a small shepherd's house. His one meter high stone wall is taming the sound into a strong drone.
Attila Faravelli is a sound artist and field recordist from Italy. In the last 2 years he has been recording a lot to tape, both high quality type IV cassettes and with an old mono Nagra III, in these cases the most interesting results are always obtained by slowing down the original recordings by playing them back with a different speed than the one it was used while recording.
---
Jeff Fuccillo
I have walked along the often windy Tama River, the river that divides Tokyo and Kanagawa, nearly daily for the last 12 years after moving to our home in Chofu. Tokyo. Since remote worked kicked-in, the number of walks and visits has increased to four or more times a day. Something of an escape. There's a particularly nice spot, where the river is delineated by a man-made waterfall. Ducks, koi fish and others (sometimes children) gather on both sides: peaceful water at the top, rough waters below. There's a railing on slab of concrete at this spot, offering a perfect place to take it all in. A howling spring wind blowing through this railing created an intense vibration prominently featured in the recording. A sort of early-minimalism reminiscent of Tony Conrad's violin playing. In this case, though, the musician is the wind playing the hell out of that railing.
Jeff Fuccillo was born in 1974 in Portland, Oregon. Currently living in Tokyo, Japan and involved with various creative projects for web, film and music. Founder of Union Pole records, a tape label started in 1993. Brought the entire catalog of 76 cassettes and 7 vinyl releases online with the premise that the entire 4GB catalog of music could be downloaded for $1. Member of Irving Klaw Trio, Hochenkeit, Helll. Recorded various solo and collaborations including a "Disturbed Strings" produced and "disturbed" by John Fahey.
---
Teddy Glendinning
This is the sound of strong horizontal wind at the top of the red sandstone Arbroath cliffs in East Scotland, 40m above sea level. The wind is catching both a Scottish flag found lashed to a bench, and the plastic around a memorial bouquet for someone who lost their life on the cliff. Arbroath is a 1000-year-old fishing town - originally populated by people exiled from the nearest town, Auchmithie, which is on the other side of the cliffs where this wind was recorded - and is home to a famous medieval monastery, as well as a fish-smoking style named after the town. Recorded 30/11/2020 using a Zoom H4N.
The sound recordist is Teddy Glendinning, a 21-year-old practising multimedia artist with a fascination for found sound and field recording, and the role that these sounds can play in meaning, memory, immersion, music and meditation.
---
Leonard Medica Gregorič
This recording of the Bora was made in a forest near my village, Vilanija, right next to a pond. It is a strong, refreshing and sometimes violent northern wind which blows in unpredictable gusts, however, it is often welcomed by locals, since it clears the sky and brings dry, sunny weather.
Leonard Medica Gregorič is mostly active in the field of experimental, contemporary and improvised music. His main interest is the relationship between man, nature, and technology. His work reflects that through a contemporary approach to creativity and composition: he often makes use of real-time, site specific environmental data extraction and sonification techniques, field recordings and custom self-built electronic instruments. He was born in 1997, and he currently lives in a small village near Umag, Croatia.
---
Jack Hyde
The sound is strong wind through a drainage pipe at a remote place in Cornwall, called Crowdy Reservoir. Recorded three years ago, I noticed the way it was singing in the wind and placed microphones inside it to capture the interesting resonance and space of the object.
I am a British Sound Artist based around London, UK. Field recording is at the centre of my practice, and I am always drawn to connection to place, mood and texture.
---
Ak Kan
This is the sound of wind we ought NOT to be listening to. The wind of sound is recorded at Luk Chau Shan in Hong Kong, about one week after the wildfire of Luk Chau Shan and Mui Tsz Lam. Over 80 hectares of land were burnt in the 20-hours fire. The trees were burnt so the wind blew directly through the valley and thus we could hear the strong wind exposed. I recorded the sound with the ashes flying by and decided to use it as a warning to the people leaving fire alive in hills. I made a video art featuring the sound recorded and I hope this sound can continue its journey to prevent hill fire around the world.
AK IN KK - Nature Field Recording HK is an independent field recording project based in Hong Kong. It aims at recording and documenting the soundscape of the nature part of Hong Kong, meanwhile, establishing a local sound library of natural ambience for artistic and media usage. The recordings are presented online in a sound map and a sound library.
https://akinkk.com/
---
Laura Maes
Recording made on the 2nd of November 2020, the 2nd day of the 2nd lockdown in Belgium. Winds up till 7 Beaufort. Location: The old water tower (1900) in Ostend, Belgium. The tower is currently being renovated. It is situated at the entrance of the Maria Hendrika park. Sounds: The wind playing between the canvases and the scaffolding, rustling leaves, birdsong and people and vehicles passing by.
Laura Maes (1978, Ghent) is fascinated by sound. In 1996 she and Kevin Van Volcem founded Cling Film, a record label and concert organisation. Laura completed her studies 'Master in Music' at the 'Royal Conservatory' in Ghent (2001), 'Master in Marketing Management' at the 'Vlerick Leuven Ghent Management School' (2002) and 'Teacher Certification in the Arts' at the School of Arts (2014). In 2013 she successfully defended her PhD dissertation Sounding Sound Art: A study of the definition, origin, context, and techniques of sound art at Ghent University. Her sound sculptures and installations were presented in Belgium, the Netherlands, Germany, the United Kingdom, Denmark and the United States. She has published in o.a. Computer Music Journal (2011), Journal of Artistic Research (2011) & Routhledge Sounding Art Companion (2016). She received the Gribbon award from the American Musical Instrument Society in 2009 and 2010. Laura released music on o.a. C.U.E. records, Cling Film, MSBR-records, Denshi Zatsuon & Flenix and worked together with o.a. Roel Meelkop, Nico Parlevliet, CREW, Claus Van Bebber, Noise Maker's Fifes, Pierre Berthet, Logos Ensemble, Q-O2, Frederik Croene and Spectra Ensemble. Laura currently works as an artistic leader for the Logos Foundation. She teaches classical guitar and ensemble at the conservatory of Ostend.
---
Scott McCulloch
On my walk home on December 8 2017, strong chilling winds of 37km/h+ were blowing through and reverberating the wooden slats and metal ironwork on the underside of the Baratashvili bridge above the Mtkvare river, Tbilisi. The harsh winds turned the bridge into an incidental sound art object, or organ, not dissimilar to the Sea Organ in Zadar, Croatia. The intensity of the harmonics and sound clusters the wind was producing while pushing through the bridge propelled me to promptly go home to grab some basic recording equipment and return.
Scott McCulloch's solo monikers include Крот (L.A.E.), DJ Крот, Seaplane Landing, Matlock. He has collaborated with Moon Wheel, Vo Ezn, Annihilation of Human Faculties, DJ Sex, Robert McDougall, and has been a member of groups A Bier for the Necropolis, Ecbatane, Lime Works (albert's basement). With Lewis Fidock, Scott runs the monthly 'Indented Head' show on Mutant Radio (Tbilisi), and previously made radio for 20feet (Kyiv). He has taught sound at artist residencies and schools, curated sound events at MAUDI Art Space and other places, and has performed at venues and festivals in Georgia, Ukraine, Lithuania, Australia, Slovenia, Greece, Azerbaijan, Indonesia, Malaysia, and elsewhere.
---
Carmen Torrano Mellado
Lebeche is the wind that comes from the southwest in Costa Cálida (Warm Coast) in Spain. This recording was made on the stairs of a tourist Summer holidays apartment building at Puerto de Mazarrón (Murcia),located near the fishing port in December 2020. At that time the squall Dora just appeared with gusts of wind of up to 34 kilometers per hour. The window of the picture overlooks the common inner courtyard, the heart of the building, now just the wind fills the space showing the emptiness. Seagulls' songs are mixed with rusty metal sounds. The wind wants to open the doors but these remain closed.
Carmen started her musical journey in Murcia (Spain) studying clarinet and double bass at the Professional Conservatory. She continued with her double bass studies in Rotterdam (Holland). Following this, she graduated with both her Bachelors and Masters at Sibelius Academy in Helsinki (Finland). Carmen is presently working as a double bass player at Georgian National Philharmonic Orchestra. Before this, she was working in other formations like the Georgian Sinfonietta as a principal double bass, Turku Philharmonic Orchestra (Finland) or La Lyra Hispana (a small ensemble specialized in period music in Spain). Due to the current sanitary crisis, she started searching for different ways of expression, using her knowledge as a musician to combine traditional musical elements (played on double bass) with music software.
---
Janne Mikkola
Lammaskallio, Tuusula, Finland. Recorded place is a sheep farm in southern Finland. Recorded at mid day september 10th 2020. Strong wind from open field close to farm buildings.
I am Janne Mikkola, an audio engineer, music producer and a musician born in 1985. I live in Vantaa southern Finland. Music and sound is what I love and do with endless interest. I am inspired with soundscapes and endless posibilities to explore audible world.
---
Sanela Milosevic and Kornel Papista
This wind is the Koshava, a SouthEast wind coming all the way from Karpati to Serbia. It enters the country through "Iron gate of Danube". It's original name contains two words on Turkish language. Kosh- which means fast and hava which means air. Very cold wind blowing up to 100 miles per hour in its strongest mode during autumn and winter. People spread stories that it blows only on odd numbered days, but it's only belief.
We are Sanela Milosevic and Kornel Papista. We live in Serbia near town Novi Sad. Our production Nadatheatre is mainly dedicated to children and young people. We have video and audio studio and we make series for children and young people. This project was inspiring cause we are collecting our own sound library, so we thought, maybe this was good oportunity to send some of our material.
www.nadatheatre.com
---
Alyssa Moxley
Meltemi (an Etesian wind) in Karkinagri, Ikaria, Greece, recorded by Alyssa Moxley in July 2019
The Meltemi is a dry northerly wind that appears unexpectedly throughout the Aegean in the midst of clear summer weather. This instance of the wind lasted for several days and nights. The recording was made in an isolated fishing village with a shoreline of craggy boulders on the south west of the island of Ikaria. From the window of a small house at night, we hear the wind whipping through the fruit trees of the garden, whistling in the power cable above, and the distant sea, crashing onto the rocks 200 meters away at the base of the cliff.
---
Rick Nance
Bamboo Wind, Hakone Japan. This wind was near the top of the second rise as we walked the mountain loop outside of Hakone. Often the light hum of the city below mottled the soundscape, spattered by distant birdsong and punctuated by those nearby. Here, however, nearly all that could be heard was the bamboo animated by the constant wind. My hiking partners, Michiko and Takako Kato went on ahead and I stayed behind nestled in the 3-meter-high bamboo corridor to listen (and record) a while.
Rick Nance is a composer, performer, researcher, educator, and recordist living in Leicester, England. He plays free improvisation trumpet and guitar and composes primarily electroacoustic music. He is from all over the Southeast United States, but mostly Birmingham, Alabama.
---
Makoto Nomura
The sound was recorded at my house in Kyoto on the afternoon of 7th September 2020 while gigantic typhoon was passing across Japan. Spinning sounds of typhoon wind sometimes made clear pitch. As it was too windy outside and dangerous, I stayed at home and recorded the sound near the window of 1st floor.
Makoto Nomura is a composer, pianist, melodica and roofing tile player. His work includes site-specific experimental work such as "Music with Animals", "Concert in the Swimming Pool", etc as well as chamber and symphonic work. He is the director of creative learning for Japan Century Symphony Orchestra and the artistic director of Senju Pun-filled Music Festival. He is the founding member of Japan Association of Composers for Sumo Hearing Arts.
https://www.cafeoto.co.uk/artists/makoto-nomura/
---
Kate Paxman
The winds of Storm Ellen, recorded 21/08/2020. Ellen was the first UK summer storm to be named since the Met Office and Met Éireann, the Irish Met Service began their project to name storms in 2015. This audio was made at Berry Head National Nature Reserve, at the edge of its 59m-high cliffs, where Storm Ellen's strongest gust of wind (at 108kmh/67mph) was recorded. Berry Head is an ancient Devonian limestone headland which lies on the urban fringes of Brixham in Torbay, Devon. It is a site of rich biodiversity with precious and vulnerable habitats, including the last 22 hectares of a globally rare type of limestone grassland – all that is left on the planet. At moments in the recording you can hear the wind rattling the dried, upright seed heads of Greater Knapweed (Centaurea scabiosa).
Kate is an artist who makes films and sound works to explore the uncertain nature of our current ecological moment and especially the crisis we are facing from human-caused environmental catastrophe. Kate is currently a practice-based PhD candidate with Plymouth University and is co-founder of Smooth Space (artist-led collective & peer support network which initiates arts projects in partnership with local communities). She has a strong track-record of commissions, residencies & exhibitions with recognised national organisations including National Trust, Ruskin Gallery (Cambridge), art.earth (Devon), Torre Abbey Museum (Devon), InsideOut Dorset Festival, Plymouth Art Weekender & CraftSpace (Birmingham).
---
Pedro and Juan
Recorded in Meliquina, Neuquen Province, Argentina, this Patagonia wind is strong, cold and persistent. Colloquially referred to as the "roaring forties", "furious fifties" and "whistling sixties", this southern wind crosses thousands of miles through the Patagonian desert before it reaches the Andes mountain range. Once there, its force rises and declines several times a day, causing considerable changes in temperature and humidity. Prepare yourself to sense the roaring wind of Patagonia; coming from the distance, finding its way through valleys, climbing mountains, blasting branches and leaves as it gives life to the mighty mountains of Meliquina Lake.
Pedro and Juan are filmmakers from Argentina, currently producing a documentary about nature and wildlife in Patagonia.
---
Kristoffer Raasted
A recording of wind near Jomsom, Nepal made by an unknown sound technician working for the Danish Radio (DR) whom my family met in the Himalayas in 1997. The purpose of the collection was gathering silence and wind for the archive at the state radio. My father gave me a tape with these sounds last year that I digitalized and released in a tape/zine release on stall-tape last year in their found sound edition Kantoor printed by Petrichor.
---
Lasse-Marc Riek
Rotorblades of a windmill, Netherlands, Zerikzee, 2019
Lasse-Marc Riek (born 1975 in Germany) uses field recording as a means to capture and explore acoustic ecology, bio-acoustics and soundscapes. Since 1997, he has operated internationally, staging exhibitions and concerts, releasing recordings, and delivering lectures and workshops. Diverse venues have hosted his performances: galleries, art museums, churches and universities. His work has featured on public media, including public radio channels. He has received scholarships and participated in artist-in-residence programs in Europe, the Middle East and Africa. He is co-founder of the label Gruenrekorder, which since 2001 has concentrated on soundscapes, field recordings and electro-acoustic compositions and works in these contexts with artists and scientists on an international level.
https://lasse-marc-riek.de/
https://www.gruenrekorder.de/
---
Mark Roberts
The recording was made in May 2014, whilst filming the BBC documentary series 'Living With Nomads'. We spent 3 weeks living with a Mongolian family in Gobi Gurvan Saikhan National Park. The weather was extremely changeable with four seasons in one day not uncommon. Our camp was situated at the end of a long valley and the wind would often barrel down the length of it. I recorded this wildtrack whilst sheltering in the lee side of a Mongolian 'ger' dwelling.
Mark is a natural history sound recordist based in Hong Kong. He has many recordings of wind, collected from twenty years of working on natural history documentaries, mainly for the BBC.
www.markroberts.hk
---
Nick Walters
I realised that wind is silent. It only makes noise when it interacts with an object. I live next to a legendary river in Devon called the Dart. This begins in the middle of Dartmoor. There are lots of trees along its path. These make wonderful sounds when wind hits them. Wind is also difficult to record because of it hitting the microphone and creating 'buffeting' noises. I begun experimenting to try to find the best recording I could of the local winds along the river using my limited resources. At the same time Storm Ellen hit this area, coming up the Dart estuary from the Atlantic. The final piece was a place next to where I sit every day to eat my lunch. It is an old farmyard lined by poplar trees. I'd noticed the sound of the wind previously but was only on investigating further I discovered an almost perfect 'chamber' of trees. I think this is the best way to record wind because in the middle of the 'chamber' there is no wind so you don't get the buffeting and can get a clear recording of the tree-tops.
As I was searching for wind I was reminded of windsurfing with my dad (who died last year) and my brother. In the eighties - when windsurfing had its 'boom' in the uk. We lived in High Wycombe but would drive down to Poole Harbour, in Dorset, almost every Sunday. And we were constantly, obsessively, checking the 'wind' by looking at the tree-tops, my dad's dad, my grandpa, was a keen sailor and taught my dad to sail on the 'Exe' - another river in Devon. Windsurfing was the more 'modern' equivalent, but using same principles. We would obsessively look at the tree tops to try and asses its strength, both on the days leading up to our day, and the day itself, the drive down to Poole. Also, tuning into the 'Shipping Forecast' on BBC radio. This otherwise deadly boring (for a teenage boy) radio program suddenly transformed into a vital piece of our mission equipment.
---
Simon Whetham
"Farm Wreck" was recorded near some geothermal springs in Seltún, Iceland, and is exactly as titled – a half-collapsed sheep farm building. This was recorded in December 2017 during a recording trip with Magnus Bergsson while I was participating in Fresh Winds Biennale 2018.
Since 2005 Simon Whetham has developed a practice of working with sonic activity as a raw material for creation. He uses environmental sound, employing a variety of methods and techniques in order to obtain often unnoticed and obscured sonic phenomena. When presenting work in a performance or installation, for him the space and the objects within become instruments to be played. His artistic investigations have caused him to work increasingly in multi-disciplinary projects, leading his work to become more visual and tangible. He is currently exploring ways to retain physical traces of sound and transforming energy forms. Long term projects in Asia and Latin America have heavily influenced his working methods and ideology.
---
Hubert Wińczyk
It is an Atlantic Gale. It was recorded in Skibbereen, Co. Cork, P81 VW98, Ireland on 13.01.2020. I was on the top floor of the West Cork Arts Centre, where I was installing my sound installation for an exhibition for kids. That day the wind was very strong, youth from local school who had to come for a meeting with us had a big problem with reaching us.
Hubert Wińczyk - Sound artist, performer, improviser, poet, chaotic minimalist. Based in Poznań, Poland. Runs the Urinatorium project focused on found sounds, acoustic waste of human activity, He appears with Monika Wińczyk in the performance group Monster Hurricane Wihajster. Builds sound installations based upon field recordings or high and low frequencies. Member of kakofoNIKT audio-visual group. Plays also in bands Nova Reperta, WW DUO, Revue svazu českých architektů, MoÅNnada and is involved in free improvised music in various collaborations. Composes music and sound for theatre, animated films and radio-plays.
https://hubertwinczyk.bandcamp.com/
---
Maciej Wirmański
Various weather forecasts predicted that day as a beginning of a true winter time. Next day there was a very strong wind, which hit the old countryside house I was raised. Cold western wind bend wooden construction elements of roof, especially rafters. It hit the sheet roof and it sounded like thunder. I thought "yes, this time i need to be prepared earlier". Thus I went to the barn attic where I usually keep winter tyres, I wanted to swap tyres in my car as soon as possible. In the place where I live winters can be very harsh. This recording comes from my visit in the attic.
No winter came that day.
https://szarareneta.bandcamp.com/
---
---
---
---
---
---